Do you want to create a beautiful anime room and fully devote yourself to this incredible culture? 
Making an anime room is an excellent idea if you are an avid anime fan and want to surround yourself with anime vibes. First, though, what's an anime room?
In plain terms, an anime room is a room that fits into the anime thematics. Upon entering it, you don't have to second-guess that it's an anime room – you already see it.
What makes an anime room authentic? Numerous things. While there are no criteria for making the space related to anime, there are several elements you want to get when preparing the room to ensure it's authentic and, above all else, unique. Read on to learn more about them.
Live Up The Room By Adding Led Lights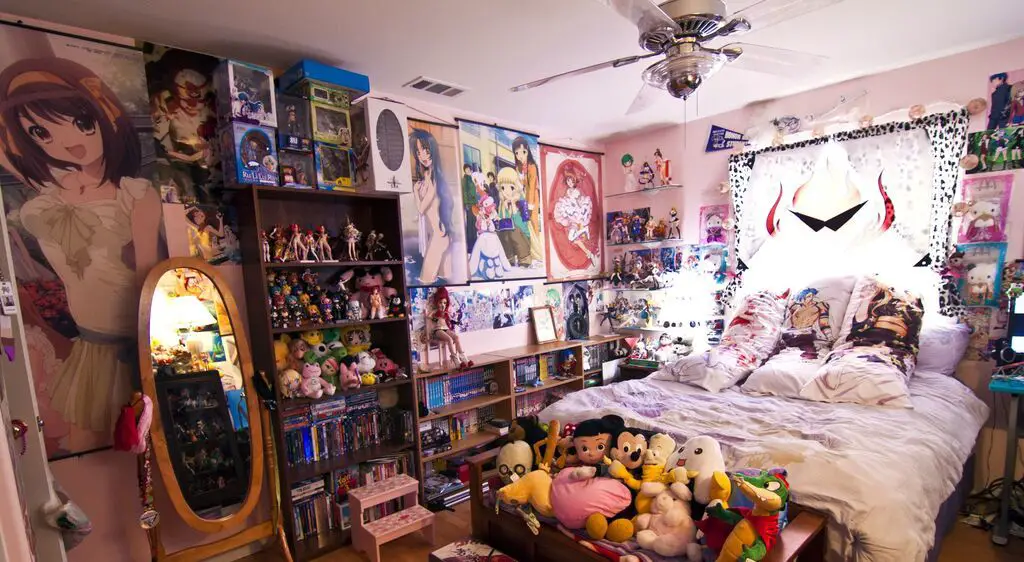 Lights are part and parcel of every anime room, so securing the right light should be your top priority. The good thing about the light is it doesn't restrict you to a set of colors.
You can opt for practically any color you feel the best fitting into your space. Still, anime enthusiasts highlight several colors and the best sources to help you make the most out of your room.
These are light bulbs and strips, chocolate brown, soft blue, pastel pink, and similar soft-colored lights.
To jazz up the anime atmosphere, you can get a bunch of LED light strips, thus creating a mix of colors. But don't forget about safety; ensure every light source is far from flammable materials. 
Hang Relevant Posters, Scroll Walls, And PC Wallpapers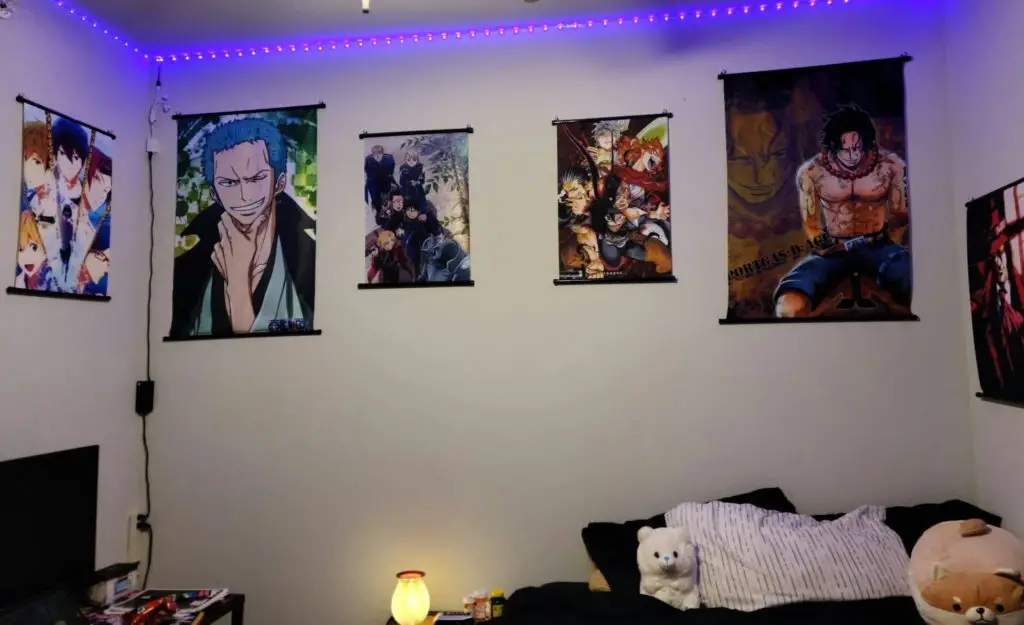 Now let's talk about furnishing the walls. Although common, posters and scroll walls are necessary when decorating an anime room because:
They are visible and discoverable and spark people's attention immediately.

They are affordable; even if you buy many of them, this purchase will unlikely break your bank.

There are zillions of posters and scroll walls, so the chances are you will always find items with your favorite characters and settings.
Don't forget about the fifth wall – your PC. Changing your PC wallpapers will make your computer part of the anime space. You don't have to reinvent the wheel and look for something exceptional. Using this vaporwave color palette and choosing the appropriate color for the desktop should suffice. 
Related| Demon Slayer Season 3 Release Date – Everything We Know So Far
Add Stickers, Figurines, And Soft Toys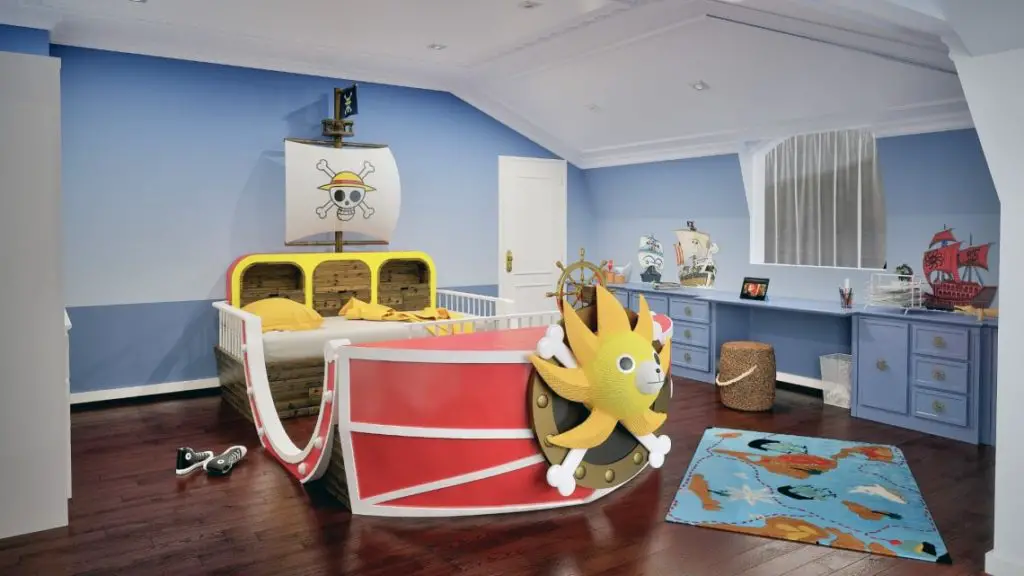 Changing the PC wallpaper isn't enough to attune it to the room's anime aesthetics. After all, your computer has a set of other elements you need to upgrade so they look relevant and eye-catching. How do you improve them?
One word: stickers. Stickers are a real game-changer when it comes to merging things. They are cheap, simple, and will help you make the PC station anime-like. Small figures are excellent decorations for flat surfaces like tables, drawers, and shelves. The prices range, but don't hesitate to get a handful of them to fill up the space.
Coupled with stickers and plushies, they will boost up your decor tremendously. Yes, you heard right! Soft toys are indispensable and must be present in any room. Place plushies alongside figurines, and don't forget to throw one or two on your bed. 
Build A Manga Library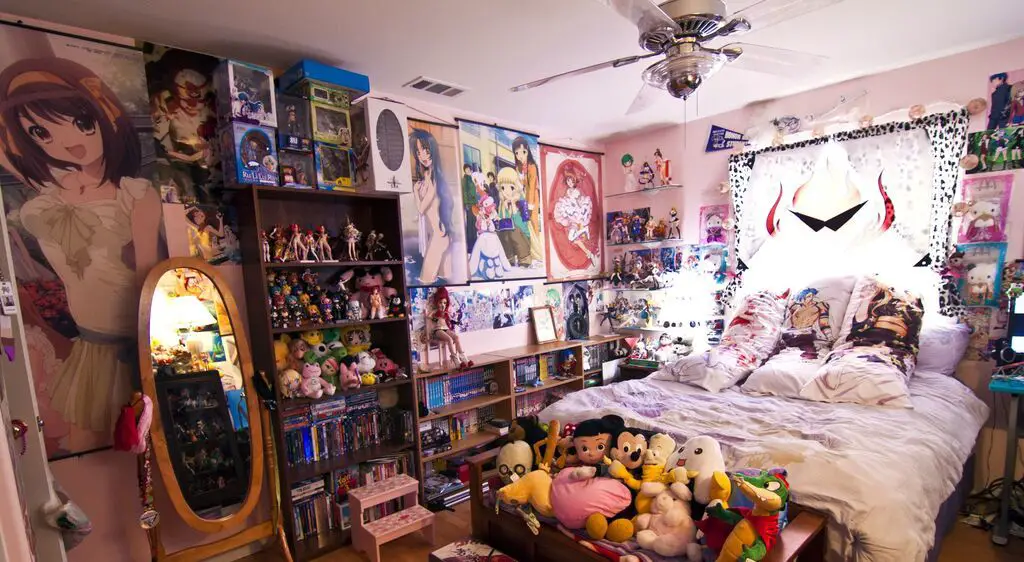 To create a manga library, you don't have to be a dedicated manga reader. It's more of a decorative element that will fill the gaps and make your room look like anime heaven.
We encourage you to design a visible manga collection because such items look visually appealing and can catch people's attention quickly. Besides, you can play with additional elements and other manga books, pairing them and creating a stunning, well-decorated corner.
Related| The Gifted Season 3 Release Date, Plot, Cast And All Enthralling Updates
Add DVDs As Decoration
A few to no people watch DVDs now, but it doesn't mean you can't take advantage of them. In fact, you can – anime DVDs usually have exciting and vintage covers, adding to your room's aesthetics. For instance, you can create a space for anime history and evolution, putting various DVDs there. 
Compartmentalize Your Space
Making the most of the room's space is always essential, no matter its aesthetics. As an anime fan, you will buy some cool stuff occasionally, piling your space up. Where to keep all those things?
Anime decorative boxes are the solution! Don't worry if you can't find such boxes. You can buy simple boxes and put stickers on them. Alternatively, you can paint them in the desired color.
Think Of Thematic Bed Sheets
Childish, you say? Perhaps, but that depends on your inventiveness. Bed sheets may look childish if we're talking about basic sheets with printed anime characters.
But with the right approach, your bed sheets will only complement your anime-inspired room. Various services offer personalized bed sheets with a list of available colors and symbols. 
Try DIY Things
DIY things may be demanding and time-consuming, but the emotions you get afterward are worth the price. Regarding bed sheets, you can paint them yourself in whatever vibrant color you want. You can also carve something in wood, create origami, design posters, etc. Whenever you have time and inspiration, use them to create something unique.
Besides time and money, it's important to have enough passion and be able to envision what you want your anime room to look like. Try using the provided tips, and your space will be one-of-a-kind in the long run.
Related| Power Book II: Ghost Season 3 Release Date – Will Startz Be Back With The Crime Drama In 2022?