The Dragon Prince is a popular animated English series whose first season was released on 14th September 2018 on Netflix for North American viewers while it was premiered on PGS Entertainment for audiences of other countries. So far we have seen three seasons and all of them were good. It has got excellent 8.4/10 stars on the IMDb while 100% Avg. Tomatometer on Rotten Tomatoes. Season 3 consisting of 9 episodes was launched on 22nd November 2019.
Now, more than two years have passed since season 3 was released. We all know that the ending of last season wasn't satisfactory as it left many questions unanswered, that's why all the fans of the show are enthusiastically waiting to know The Dragon Prince Season 4 release date. If you are also an admirer of this show and want to know the latest news about it then take a look at what we have explored so far –
Are We Getting To Know The Dragon Prince Season 4 Release Date?
The series was renewed last year by Netflix but you may be waiting for a long time to hear some fresh updates about its upcoming season. So, let me tell you that the updates for which you were impatiently waiting have arrived. The Dragon Prince through its official Twitter handle blamed the COVID-19 pandemic for the problems that they faced in production.
The line says, "While the pandemic has impacted the process at every level, the reality is that productions of this scale always take a lot of time. We're writing the story and scripts, assembling the production team, and developing other new, exciting areas of Xadia for you to explore."
Even though we aren't told The Dragon Season 4 Release Date, but the series and several other linked projects are on the way. A popular game The Dragon Prince: Tales of Xadia is going to expand in association with Fandom. A book is also coming and "canon stories" including behind the scenes and a glimpse of season 4 has been assured.
Netflix expressed gratitude to fans and also praised the patience that they showed. The OTT service provider has also indicated that it will try to provide more details at San Diego Comic-Con or New York Comic-Con in the coming months of this year.
The Dragon Prince has earlier launched a factual book named Moon and also a visual novel Through The Moon, which point towards the incidents of season 4. The show got a green light for further four seasons in the course of the Comic-Con event which was held in 2020.
How Will The Dragon Prince Season 4 Plot Be?
Well, we all have watched season 3 and somewhere we aren't satisfied with its ending, right. We still have many questions in our minds that have not been answered. As of now, Netflix hasn't disclosed any official synopsis for The Dragon Prince season 4 episodes but we have some idea of the events that can occur in the upcoming season. So, let's begin with the climax of season 3.
At the last moment, it was seeming that things were becoming normal. We got to see that Zym's mom was awake and a bond between humans and elves had started developing. Also, the re-establishment of Viren. On the other way, Claudia is quite tired regarding the fortune of Aaravos. Several reports are also claiming that in The Dragon season 4 we can get to see a conflict between dragons and humans.
It can happen because humans have an intent to demolish Dragon Prince and they also have a goal to damage Dragon's eggs by adding a new heir. There is also a certainty of the evolution of the Xalida Kingdom as the latest tweet hints that there will be a fresh place to discover. Next season can provide insights into the link between Sunfire elves and Aaravos.
Related| Killing Eve Season 4 Release Date, Renewal Status, Cast And All You Need To Know
Who Will Be Part Of The Dragon Season 4 Cast?
Netflix hasn't provided many details about the cast of the upcoming season, but it is impossible to think about Season 4 without central characters of the show. Some trusted sources like Otakukart are hinting that lead stars will make a comeback to reprise their roles. Former actors have performed well in the previously released seasons so there is a maximum possibility of their return.
The showrunners can also introduce new faces in season 4. However, the addition of newcomers won't affect the main actors of the series. They will be the same as before. So, definitely, the lead stars will replicate their roles in season 4. According to this, the actors who will be seen in the forthcoming season are –
Jack DeSena will be seen as Callum.
Paula Burrows will portray the character of Rayla.
Sasha Rojen will play his role as Ezran.
Jason Simpson will present the character of Viren.
Racquel Belmonte will display the character of Claudia.
Jesse Inocalla will be seen as Soren.
Luc Roderique will portray the character of King Harrow of Katolis.
Kazumi Evans will be seen as Queen Sarai of Katolis.
Adrian Petriw will present the character of Commander Gren.
Omari Newton will play his role as Corvus.
Nahanni Mitchell will play her role as Ellis.
Zelda Ehasz will present the character of Queen Aanya.
Peter Kelamis will display the character of Captain Villads.
Jonathan Holmes will portray the character of Saleer.
Brian Drummond will be seen as Ziard.
Apart from them, several other characters like Erik Todd Dellums, Jonathan Holmes, Vincent Gale, Ellie King, Rena Anakwe, Rhona Rees, and many others will play their respective roles.
How Many Episodes Will Be In The Dragon Season 4?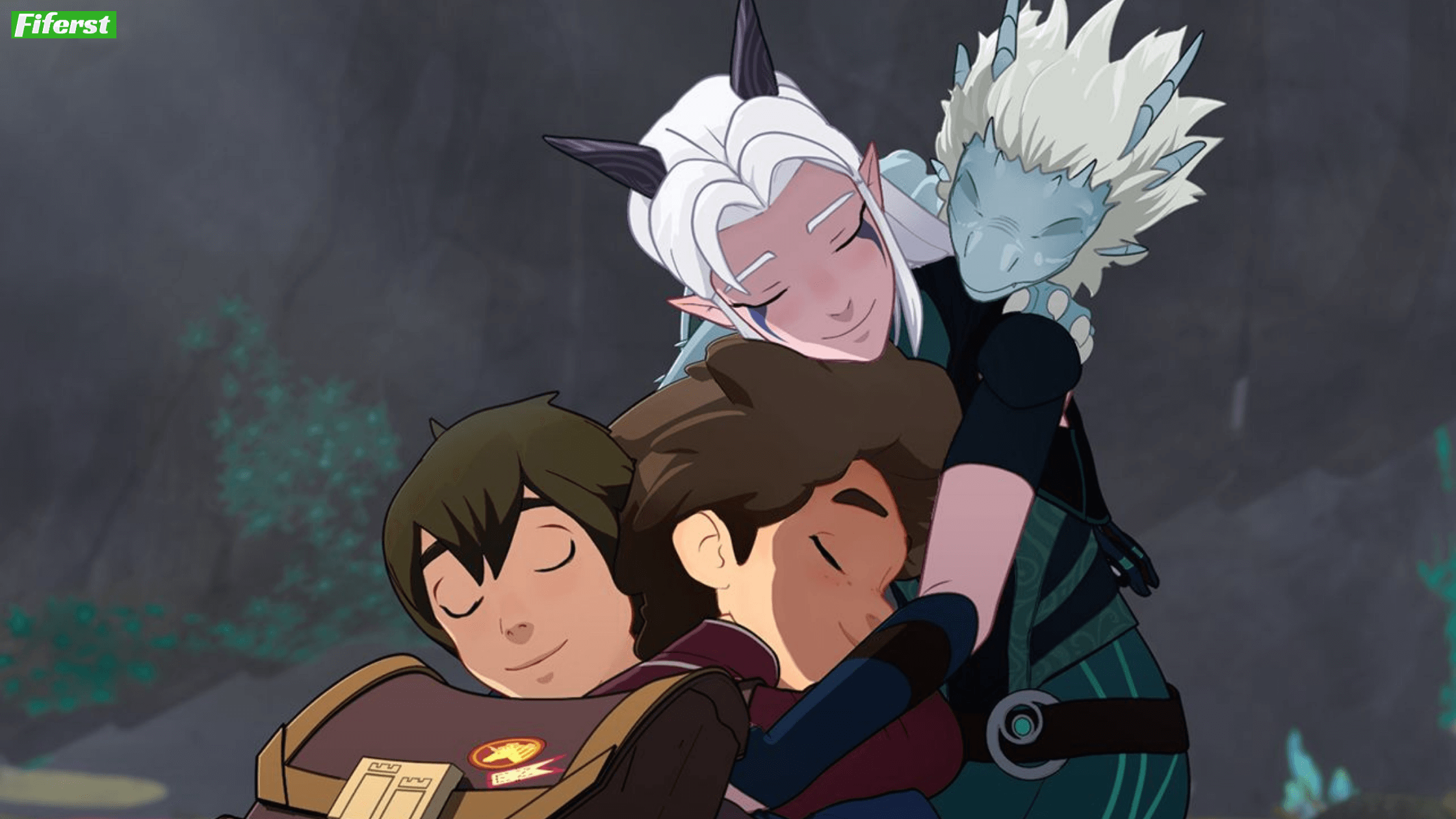 In last season we have seen 9 episodes including –
Episode 1: Sol Regem
Episode 2: The Crown
Episode 3: Ghost
Episode 4: The Midnight Desert
Episode 5: Heroes and Masterminds
Episode 6: Thunder fall
Episode 7. Hearts of Cinder
Episode 8: Dragonguard
Episode 9: The Final Battle
So far we haven't received any updates from showrunners regarding the episodes of season 4 but if you remember there were 9-9 episodes in each of the earlier released seasons so as per this the forthcoming season should also have 9 episodes. However, we are just predicting, the exact details will be known only after the launch of the season.
Is There Any News Of The Dragon Season 4 Trailer?
https://youtu.be/i8FPzAW7HZ4
As of now, there isn't any news about the trailer of season 4. It's not even known when the shooting will end, therefore we won't be able to watch its trailer soon. If any new update about the series comes we will let you know. Till then you can watch the previous season's trailer embedded above.
Related| Killing Eve Season 4 Release Date, Renewal Status, Cast, And All You Need To Know