Created by David E. Kelley, Nine Perfect Strangers is an American drama series based upon Liane Moriarty's novel that was released back in 2018 and shares the same name. This mini-series made its debut on Hulu on August 18, 2021. Since, there exists a scope for more to be told in the story, fans of the show have been eagerly waiting for something official about Nine Perfect Strangers Season 2 to be released.
The show revolves around nine people who are struggling in their respective lives and enter the Tranquillum House expecting it to be a comforting and transformational experience under Masha, the teacher. However, it does not turn out to be a plain and simple ride as it appears in these lines. There is so much to look out for.
Scroll down and read all the necessary details that we have brought for you concerning the chances and details of Nine Perfect Strangers Season 2 –
Nine Perfect Strangers Season 2 – What Is The Show About?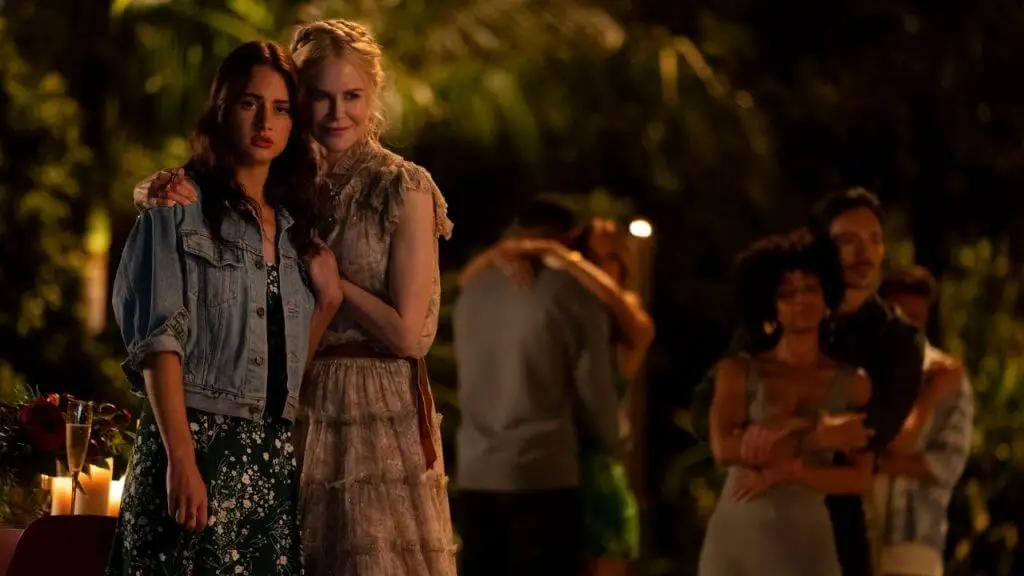 The drama takes its story from a published source material – Nine Perfect Strangers, the novel by Liane Moriarty. The show is centered around nine different people residing in the city who want a change and improvement in their tense lives. These 'perfect strangers' reach a resort named Tranquillum House, meant for health and wellness with the word of recovery and betterment under Masha, the guru.
Set in the fictitious town of Cabrillo, California, Tranquillum House aims to heal both the minds and the bodies of its guests. These nine people decide to have a ten-day stay at the resort to refresh and revive themselves. However, the resort is more than what meets the eye and so is Masha. During their stay, these 'perfect strangers' come to know more about themselves, each other, and even the mysterious Masha.
Curious to know more about it? Go and watch the first season!
Nine Perfect Strangers Season 2 Release Date – When Is Season 2 Coming Out?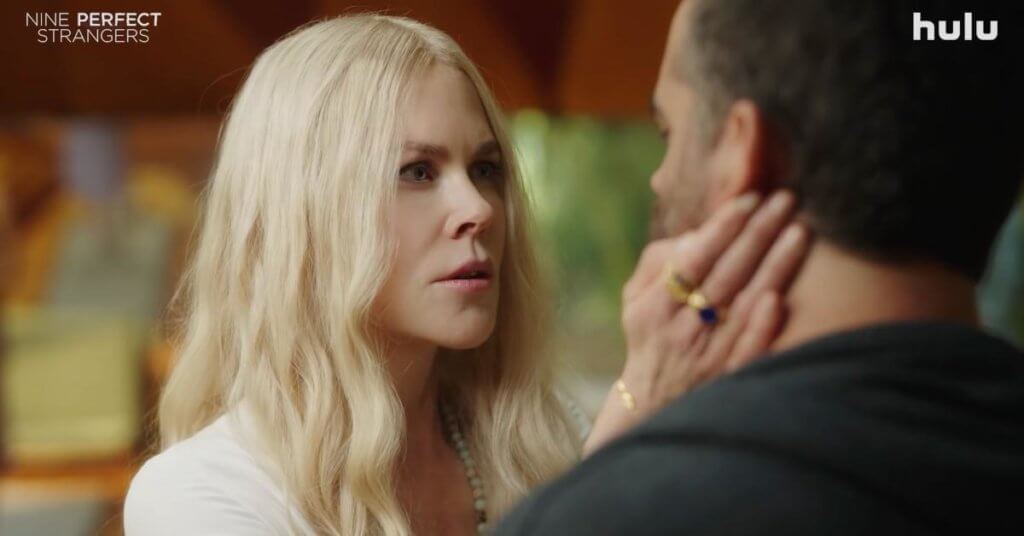 The first season of Nine Perfect Strangers was released on August 18, 2021. Having 8 episodes, the finale of the first season was aired on Hulu on September 22, 2021.
As of now, the makers or the streaming platform have not announced Nine Perfect Strangers Season 2. Moreover, before its release, the show was announced as a limited series and no hint was ever dropped about the story being extended for more than a season. Under these circumstances, predicting a release date would be mere speculation.
The show is based upon a novel and there are no chances for a second season to arrive unless the makers decide not to follow the source material. As of now, there are no hints about the makers trying to take the story ahead. However, even if they try to write and extend the plot to a second season, it would take time, planning, and then execution. Naturally, this is going to take a lot of time.
On an over-optimistic note, even if all of this does happen and we are given a second season, it would not release any time before the ending of 2022 to 2023, to say the earliest.
Nine Perfect Strangers Season 2 Cast – Who All Are Expected To Be A Part Of Season 2?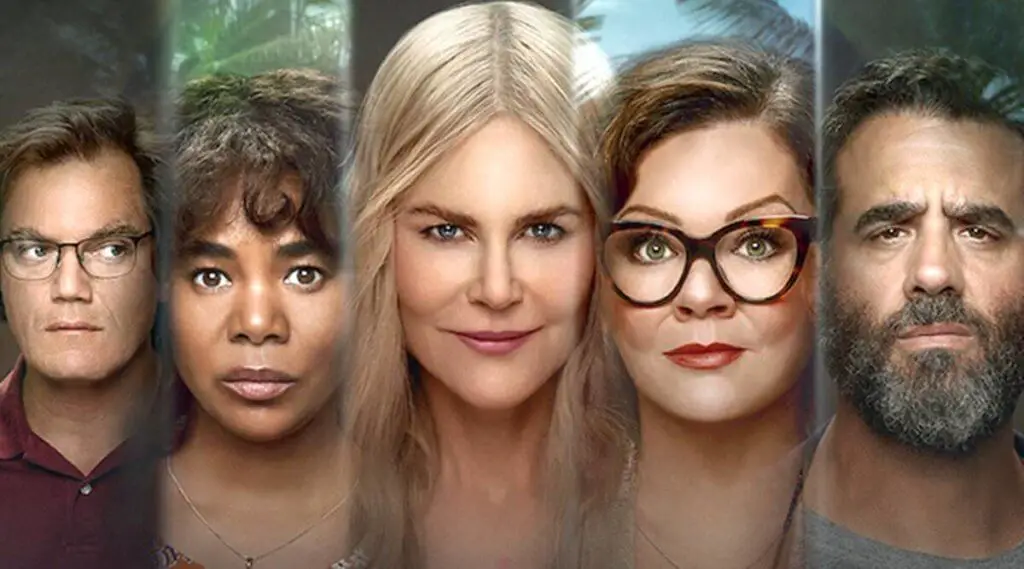 If Nine Perfect Strangers Season 2 does happen, it is likely to take the story forward from where the first installment has left. In such circumstances, those characters who have a scope for continuation would most probably be seen again. Nicole Kidman is highly expected to be back as Masha Dmitrichenko, the wellness guru at the resort. Her story and character have a lot of potential for being carried forward.
In the first season, Asher Keddie played the role of Heather Marconi while Michael Shannon came in as her husband, Napoleon Marconi. Grace Van Patten stepped into the shoes of Zoe Marconi, daughter of Heather and Napoleon.
Samara Weaving joined in as Jessica Chandler with Melvin Gregg who played her husband, Ben Chandler. Melissa McCarthy stepped into the shoes of Frances Welty, a novelist. Bobby Cannavale portrayed a drug addict and an ex-American footballer, Tony Hogburn. Regina Hall entered the resort as a single mother, Carmel Schneider.
Tiffany Boone, Zoe Terakes, and Manny Jacinto played the characters of the employees of Tranquillum House, namely Delilah, Glory, and Yao respectively. Luke Evans entered as Lars Lee, a man with a secret motive at the resort.
If the story of Nine Perfect Strangers Season 2 begins from where the first season has left, we expect the roles of Masha and the staff at the resort to be retained. Other than these characters, some others are most likely to join since the nine guests from the previous season might or might not be there.
Nine Perfect Strangers Season 2 Plot – What Is Likely To Happen Next?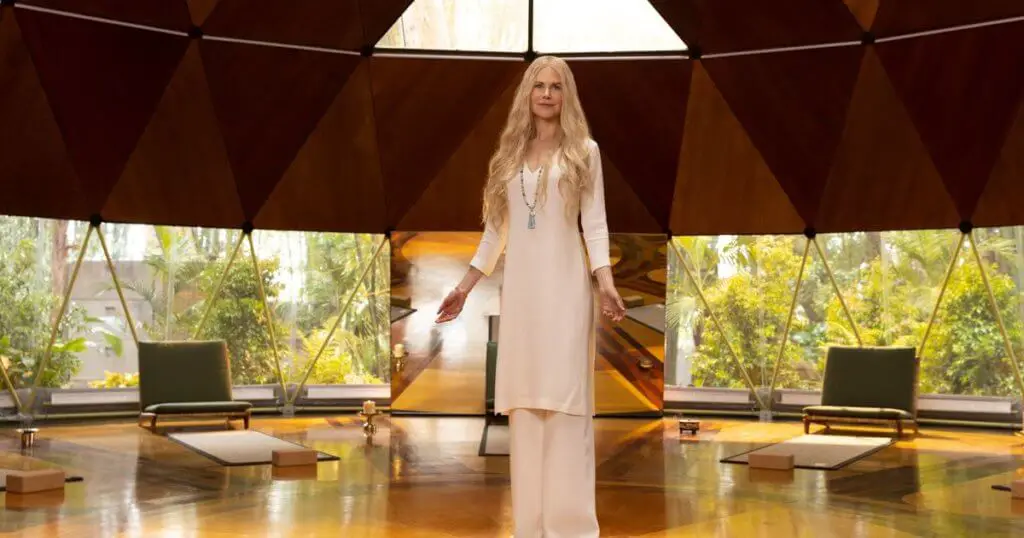 The end of the first season did not give a 'full stop' ending to the story of the characters. Masha minutely escapes imprisonment and is seen making her way to a different location with her daughter's phantom. What actually happens to the strangers has not been completely disclosed. So, what next?
Firstly, the makers are unlikely to come up with Nine Perfect Strangers Season 2 because of reasons that we have already mentioned (Scroll Up). However, there does exist a potential plot outside the horizon of the novel upon which the show is based.
If Nine Perfect Strangers Season 2 hits our screens, it is likely to take forth the story of Masha and unfold some more aspects related to her along with the steps that she next undertakes. Also, we might also get to peep into the lives of the nine characters from the first season. Further, who knows maybe the makers would bring a set of nine new strangers to this resort or a new location to unveil what they have to unfold (Possible, no?).
There is no certainty about the arrival of Nine Perfect Strangers Season 2. For those who are really looking forward to it, here's a suggestion – Do not expect a lot but do keep the hope alive and wish for the makers to catch your vibrations *winks*.
Nine Perfect Strangers Season 2 Trailer – Do We Have The Official Trailer For Nine Perfect Strangers Season 2?
No, the trailer for Nine Perfect Strangers Season 2 has not been released. It hasn't been long since the previous season was released (might be long for the fans though, we totally understand). Also, there is no confirmation for a second season. Things have to be decided, finalized and minds have to be changed, then only we(fiferst) can expect a trailer to be officially released.
Till the makers drop the trailer or some confirmation for the next season (that if hopes come alive), here is the trailer from Nine Perfect Strangers Season 1 for you all to live it all over again –
Related Content|