The thrilling ITV British crime series is all set to make a comeback with Grantchester Season 7.
The Grantchester recently premiered its sixth season that ran for 8 episodes. Now, here's some good news for the fans – you won't have to wait for too long as the filming and production of the next season of Grantchester have already started in July 2021. The seventh season might release sooner than you expect. Doesn't that sound great?
Set in a Cambridgeshire village, the drama is based upon a collection of short stories by James Runcie – 'The Grantchester Mysteries.' The series has been set in the 1950s and follows the crime fiction genre of James Runcie's stories fairly well. An IMDb rating of 7.9 stands for the standard of the series and speaks for its popularity.
In the first few seasons, Grantchester saw an Ex-Scots Guards officer Sidney Chambers (played by James Norton) teaming up with Detective Inspector Geordie Keating (played by Robson Green) to solve mysteries and criminal cases. After the fourth season, Will Davenport (played by Tom Brittney) became the successor of Sidney Chambers and the new partner of Geordie Keating.
The major action in the first four parts revolved around Sidney Chambers. However, starting from Grantchester Season 5, his position was taken over by Will Davenport. In every season, some crime brews up in the village and all the skills and composure of our detectives are tested as they unravel the mysteries to reach their destination.
Grantchester Season 7 Release Date – When & Where Does It Start Streaming?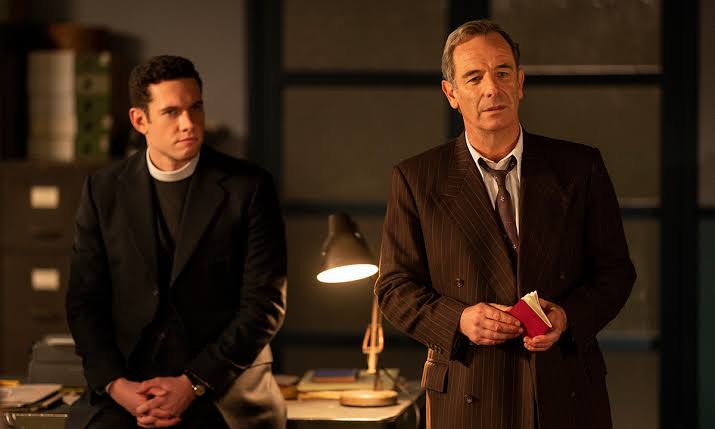 Grantchester Season 7 is still under production and no official confirmation has yet been made about its release date. However, going by the facts that we have, we do know that the shooting for the seventh season started in July 2021. Also, as per an official confirmation, the production process of Season 7 is likely to be completed before the end of 2021.
Keeping this in view as well as the fact that Season 6 arrived for the audience on September 3, 2021, we can make an estimate that Grantchester Season 7 is expected to be released somewhere before the middle of 2022.
You can catch and stream all the six seasons of Grantchester that have been released so far on Amazon Prime. A subscription of Amazon Prime Video, Vudu, or Google Play would also provide access to stream the Grantchester series.
Grantchester Season 7 Cast – Who's in and who goes out?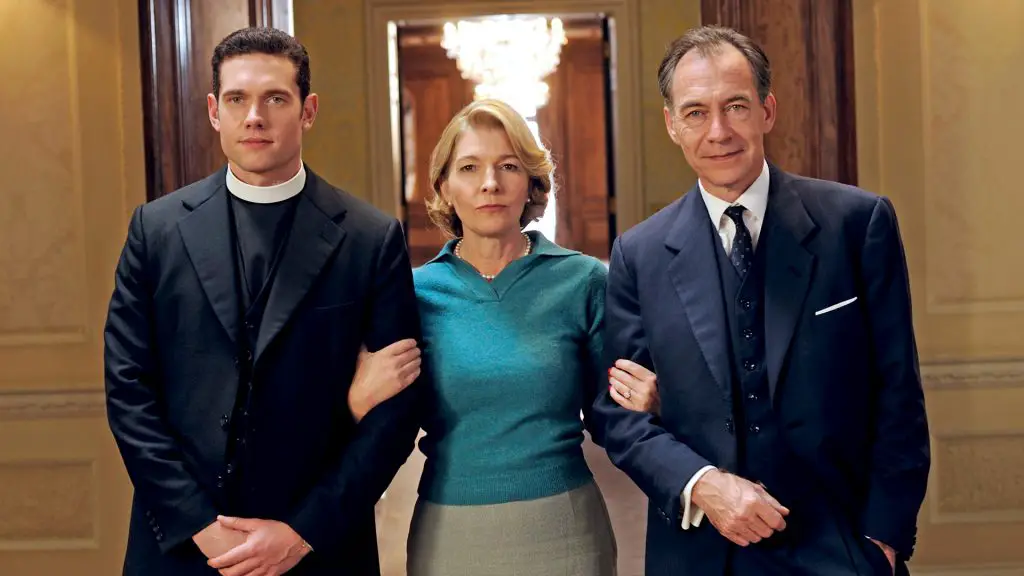 The entire Grantchester series is based upon a written and published source. It has got the same setting and in every season, the major characters keep coming back for us. There is official confirmation for the comeback of the two main characters – Tom Brittney as Will Davenport and Robson Green as Geordie Keating in Grantchester Season 7. Most of the cast is expected to remain the same with few new additions to the team.
Tessa Peake and Nick Brimble are likely to return as Mrs. Chapman and Jack Chapman respectively. Al Weaver and Kacey Ainsworth are yet again going to be seen as Leonard Finch and Cathy Keating. Daniel Marlowe would once again be played by Oliver Dimsdale. Melissa Johns would be coming as Miss Scott while Larry Peters would be played by Bradley Hall.
After Charlotte Ritchie, Masterpiece PBS has also made an official announcement for 7 guest appearances to be seen in Grantchester Season 7. The list goes like this –
Ellora Torchia
Emma Cunniffe
Janie Dee
Philip Whitchurch
Rowena King
Anna Wilson-Jones
Michael D. Xavier
Grantchester Season 7 Plot – From the makers!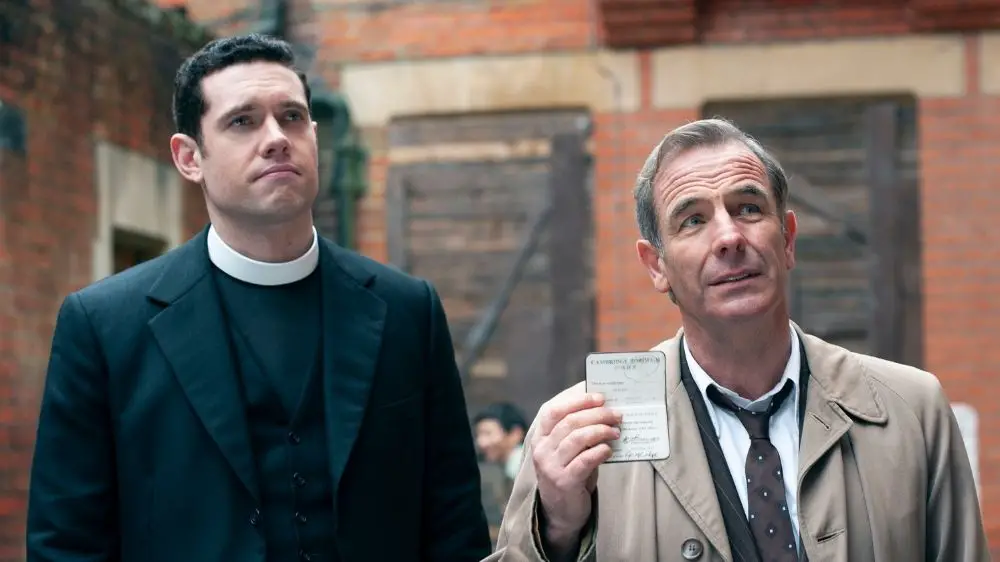 The process to deliver something that meets up with the expectations is going on in full swing. Masterpiece PBS and ITV have officially provided a synopsis for Grantchester Season 7. The seventh season would be set up in the year 1959. Read the synopsis given below and gear up for what is to come –
"Set in the long hot summer of 1959 with wedding season in full swing in the Cambridgeshire village of Grantchester.
As the Reverend Will Davenport unites happy couples in holy matrimony, Detective Inspector Geordie Keating is busy as ever investigating a range of local murder cases. With a new decade just around the corner, the question of what the future holds is on everyone's minds, not least Will's, but before the 50s roll over into the swinging sixties there are some crimes to solve and some life-changing decisions to be made that might change life in Grantchester."
This indeed sounds intriguing. We're curious, pumped up, and eagerly waiting for a trailer to arrive. Aren't you?
Grantchester Season 7 Shots – What to expect?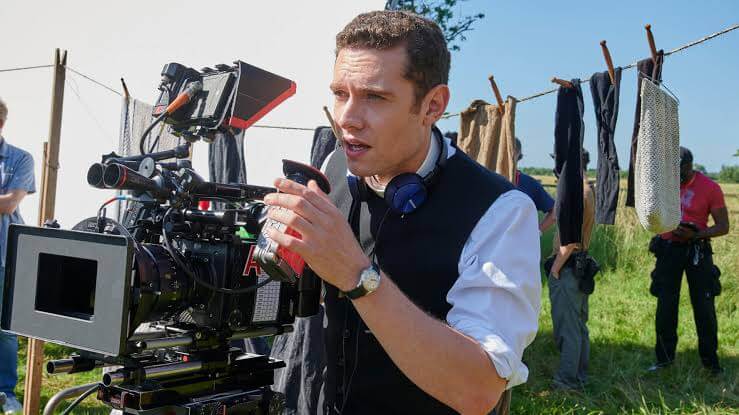 Official confirmation has been made that Grantchester Season 7 would have 8 episodes. The official synopsis drops many hints for those who are quick to catch and we believe that the fans of Grantchester are quite smart.
The new season would be set in 1959 which means that a new decade would be knocking at the doors. Of course, the wedding season in the background has also been signaled at but the major focus is likely to be on 'the 50s rolling into the swinging sixties.' The characters seem to be in a state of introspection about what is coming in store with the new decade.
And since we are talking about Grantchester, you definitely have to expect thrilling mysteries and puzzles waiting to be solved and some answers awaiting their revelation. Additionally, something really special about Grantchester Season 7 is that one of its episodes would be directed by Tom Brittney himself.
Tom Brittney in a statement said, "I'm thrilled to be back on set with my Grantchester family and back in our happy place." He further added, "I'm also absolutely over the moon to be given the opportunity to direct an episode of this series, it's been a life ambition of mine and I can't wait for the audience to see it (and also I can finally order Robson about!)." We hope that Tom knows that the audience is equally excited as well.
Grantchester Season 7 Trailer: When A
re We Gonna Watch It?
Its release date is yet to be finalised. So, we don't have any other option than to wait for it. Till the seventh season officially arrives for us, here's the trailer for Grantchester Season 6 for those who might need a push to visit its alleys once again.
Related Content|