A show one could not get enough of. And how can one? The show kept the viewers hooked up to it till the goodbye scene. But that is another thing. We're here for Schitt's Creek Finale ending explained. Aren't we?
The innocent viewers might not be able to get a hang of it. So what? Fiferst is here for your entertainment-related solutions and it will always be – don't you ever think otherwise!
Of course, there are so many things to know about the show that ran for 6 seasons straight! There has to be something so good with it! And of course. Schitt's Creek's ratings will tell you how much love and warmth the show has received.
Anyway, without lots of jibber-jabber, let us straight get to the point – Schitt's Creek finale ending explained.
Schitt's Creek Finale Ending Explained – What Do We Know About Schitt's Creek So Far?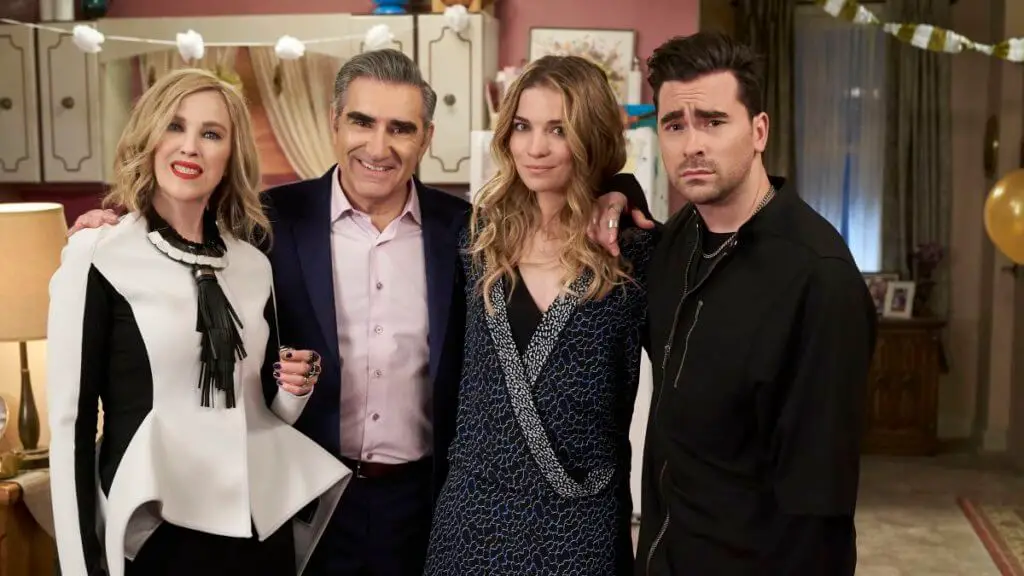 If you have watched the show, you will know Schitt's Creek is not a thing, it is a place.
The show is liked by 94% of Google users! Told you, the show has received so much warmth and love. Not just this, the show is also liked by 93% of viewers and critics on Rotten Tomatoes.
Adding to it, the show got 8.5 out of 10 points on IMDb. If you're saying that is not huge, well, we don't know which planet you came from!
The Canadian show was originally telecasted on CBC Television and was later taken up by Netflix.
The show was first delivered on screens on January 12, 2015, and finally came to an end in 2020.
If you are someone who watched the show recently, well, you're watching good content!
Don't miss out on – 10+ Hilarious Shows Like Schitt's Creek That Will Ground You Up
Schitt's Creek Finale Plot – What Lead Us Here?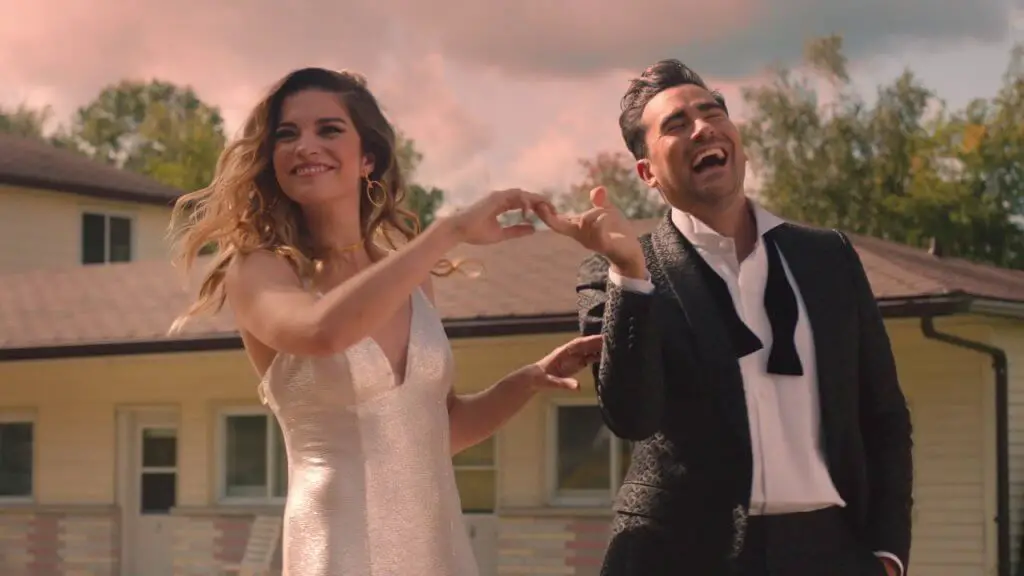 Remember how the Rose family came whining to the town they purchased as a joke after going bankrupt? Well, the same town saved their lives and gave them some of the most beautiful moments of their lives?
Of course, you remember, and isn't it also you came here looking for Schitt's Creek Finale Ending explained?
Whatsoever may be the reason you came here, we're glad that you are here.
Before digging straight to Schitt's Creek Season 6 ending explained, let us first know what lead us here? How did it all happen?
Of course, we're not going to discuss that in detail but what's wrong with a little basic storyline?
The couple, Mr. and Mrs. Rose go bankrupt (as mentioned earlier). In the hustle and bustle of what to do next, they come to live in the town named Schitt's Creek and try to appreciate what they have in their new lives.
The drama was very simple. There were never really a lot of twists and turns in the show that would make the viewer's heart pound. But we think that's what the audience liked. The show was light-hearted.
Um, that was a lot. Let's go and check "Schitt's Creek Finale ending explained" out.
Readers also read – The Nevers Part 1 Ending Explained – How Does It End?
Schitt's Creek Finale Ending Explained – How Does It End?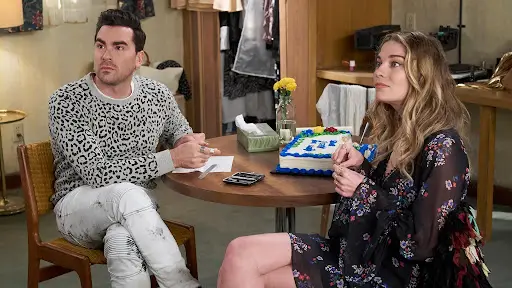 It is a secret to no one that David Rose has free sexuality and he's anxious. But the last season had something special planned for everyone – including the Rose family and their fans.
The whole season 6 takes you somewhere special. Yes, to the wedding of David and his beloved Patrick. The wedding was more than anything one could imagine.
There are so many hurdles shown in the show that might make the wedding go so wrong. But despite that, the wedding happens and David walks down the aisle with Alexi.
Tears could not stop rolling down our cheeks when we saw both the grooms saying their vows out loud. And oh! How can we forget Moira's emotional speech?
Anyway, the wedding goes perfectly and they're happy.
The time takes a lapse and we're cut to the next morning where, it is said, everyone gets their happy ending.
Isn't it how a show is supposed to end?
This was all for Schitt's Creek Finale ending explained. We hope this helped. In case, it did not feel free to leave a comment and we're there to help you!
Read related – Schitt's Creek Finale Ending Explained – How Does It End?
Schitt's Creek Season 6 – Catch Up On The Bits and Pieces of The Show!
Saying goodbye to the show was difficult. Do you know what was harder than that? Watching the final scene of the show. It couldn't get more emotional.
Well, if you are in the mood for getting emotional right now, Fiferst has the Schitt's Creek Finale scene embedded right below. Do not forget to take a look at the show.
Ah, the goodbye scene…
What's Next? Schitt's Creek Season 7?
After everything wraps up happily in the 6th season of the show, viewers were enthusiastically waiting for the announcement of the seventh season. But all their enthusiasm was trashed when the news of the cancellation of season 7 came out.
Yes, if you do not know it already, Schitt's Creek Season 7 has been canceled.
It kind of broke the audience's heart to think that their favorite characters will no longer be back on the screen with new entertainment (of course you can watch the old seasons).
On the cancellation of the show, when interviewed by Variety, Dan Levy says:
"I at no point wanted to compromise on quality or storytelling. It just didn't feel like it was worth the risk to take it any further. The goal was at the end of this show, this family will realize the value of love. Money can temporarily bandage a lot of things. But they would never be able to buy the kind of closeness that they have by the end of the series". – Dan Levy.
To know more about Schitt's Creek Season 7 Cancellation,
click here
.
Summing Up | Schitt's Creek Finale Ending Explained
So this is all for Schitt's Creek Finale Ending Explained. The show was so well built it almost lead the audience to tear up. But buckle up people, we'll all get over it soon.
The whole wedding went perfectly even after so many things that could have gone wrong (remember the massage…?).
Anyway, we'll stop here about the ending. If you have anything to say about the show or this article, please do so through the comment section below. Our team is going to be more than happy to see and appreciate it.
Fiferst will be back with more new and interesting articles like these. But for that, you'll have to stick with us. So, we'll suggest you bookmark us!
Until we're back, think of this as a goodbye to us and to the seventh season of Schitt's Creek!