Paradise PD is one of the most interesting options among the animated comedies available on Netflix for adults. The series revolves around a police department that lacks in its efforts and lags behind when it comes to duty, but it definitely manages well enough to make the viewers laugh heartily.
The third season of the show was telecasted on March 12, 2021, and the wait has been on for Paradise PD Season 4 ever since. Set in a town that is not so big in size but definitely up with crimes, the Paradise police department and townspeople in this American sitcom emerge as the saving grace for people who wish to laugh and stay light-hearted.
Here's an update of all the information regarding the release of Paradise PD Season 4 for all the fans who've been waiting for it –
Paradise PD Season 4 – What is the show all about?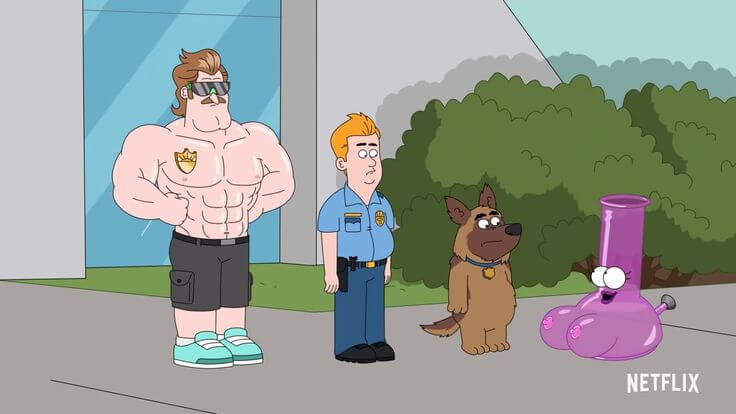 Created by Waco O' Guin and Roger Black, Paradise PD is an American animated series meant for adults that came with its first season back on August 31, 2018. Soon after this, it was renewed for a second and then a third season as well. Doesn't this already speak for the potential of the show?
The series revolves around a town with raging criminal activities but the police force here proves to be inefficient in keeping the ongoing and upcoming situation under check. This police department has weird and crazy officers that might not generate professional productivity but definitely generate humor.
Can you imagine what would happen when a police force has surreal officers that outlive the expectations kept from them – one overweight, one over-aggressive, one old and debauched, one fearful and not to forget, a drug addict dog? This is what the show brings in for the viewers.
The townspeople do not have a lesser role to play in this crazy ride. Including the ex-wife of the chief of the police department who also happens to be the town mayor, a therapist, and others, Paradise PD is indeed a crazy journey to travel through.
Related| Paradise PD Season 3 Review – A Good One or A Disaster?
Paradise PD Season 4 Release Date – When does it hit our screens?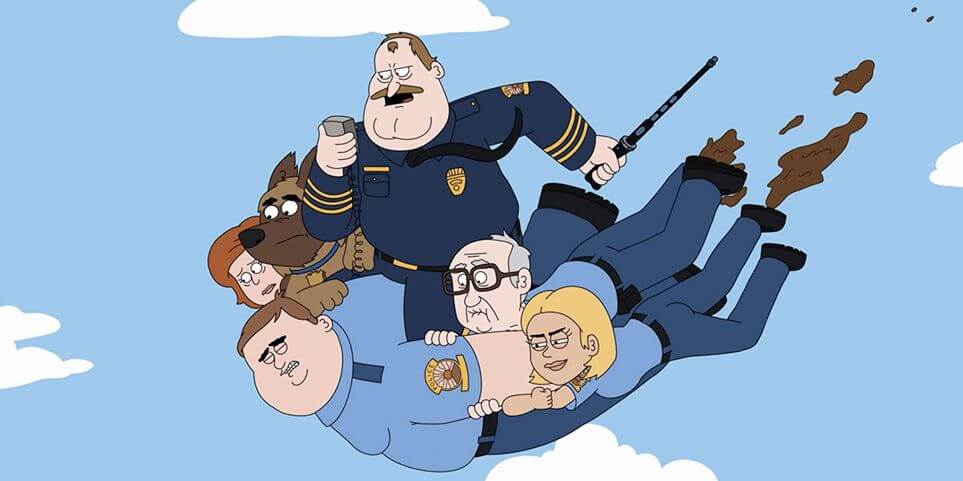 The first season of Paradise PD was aired back on August 31, 2018. It was revived soon for a second season whose first part arrived on March 6, 2020, while the second part premiered on March 12, 2021.
Fans have been waiting to watch their favorite characters back on screen eagerly with Paradise PD Season 4. The show has got a decent base of the audience as well as a good scope with its plot, therefore, we(Fiferst) already had been expecting the renewal to be announced soon.
Now, Netflix has recently renewed the animated comedy series for the fourth time. Paradise PD Season 4 is all set to premiere on  December 16, 2022, on the giant OTT platform. Credible sources like Wikipedia have confirmed that season 4 will be the last season of the series.
Related| Paradise PD Season 4 Update – All You Have To Know!
Paradise PD Season 4 Cast and Background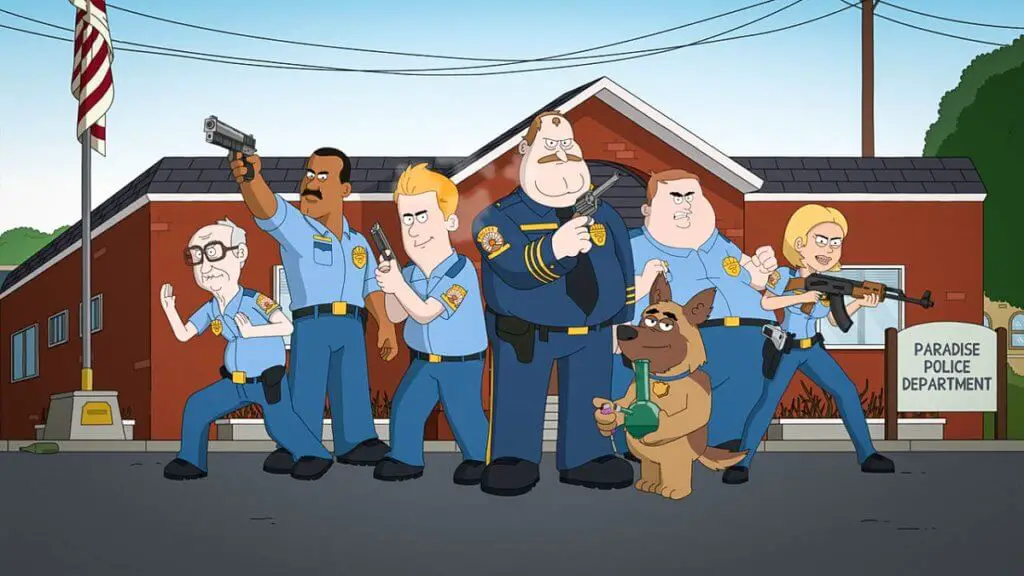 The series makes use of the voice of many talented artists for the characters of the show. Since the basics of the show remain the same, we expect Paradise PD Season 4 to have the same cast and characters from the previous installments.
Tom Kenny is expected to do his job for Chief Randall Crawford who happens to be the chief of Paradise PD. Chief Randall generates humor in the series while he is seen making the use of patches to keep up his hormonal levels as a result of his testicles having been shot by his own son.
Grey Griffin would come in for Mayor Karen Crawford, who gets divorced from Randall but they both remarry later. The son of Randall and Karen, Kevin Crawford would be been given his voice by David Herman. Kevin is new to the police but proves to have potential with time. After having shot his father's testicles, he becomes a subject to abuse from his parents.
Sarah Chalke would come back in for Gina Jabaowski who happens to be a rough and aggressive police officer with a fat fetish. Kevin has a crush on Gina that later gets reciprocated as the two of them get engaged.
Cedric Yarbrough would once again enter the shoes of Gerald 'Fitz' Fitzgerald who is a police officer suffering from PTSD while Dana Synder would join in for Dusty Marlow who is an obese police officer. This overweight and childish cat-lover is often a subject of sexual harassment delivered by Gina.
At the same time, Dana Synder would lend voice to the old and perverted officer Stanley Hopson as well. Not to forget, Kylie Kinane would step in to give voice to the drug addict dog, Bullet who works with the Paradise Police Department.
Related| 7+ Amazing Shows Like Paradise PD To Watch In 2022!!
Paradise PD Season 4 Plot – What is the new season bringing for the fans?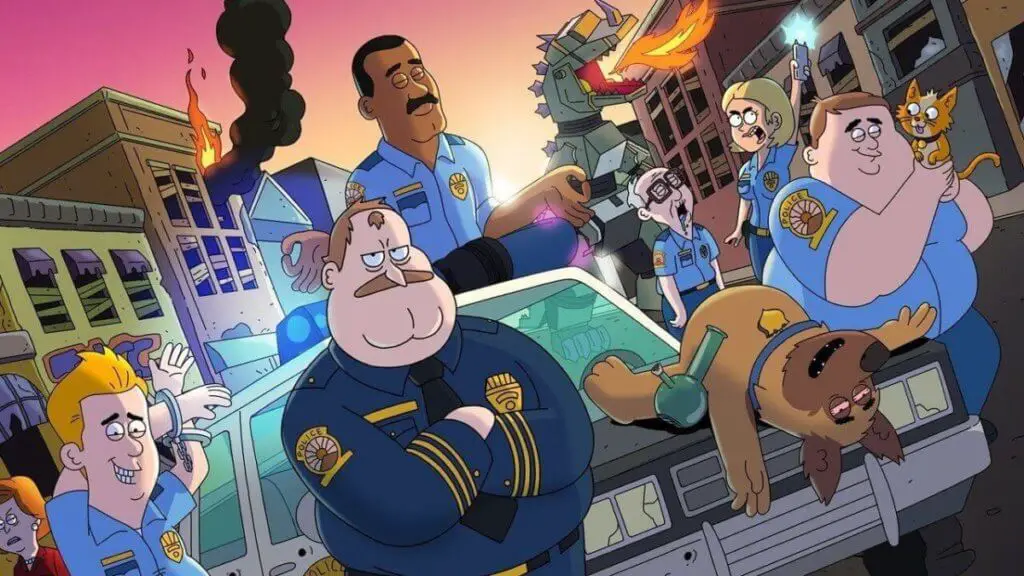 Paradise PD started its journey in 2018 and is still on the way. With the backgrounds, traits, and past lives of the characters coming to light in the initial seasons, now is the time for the plot to pick up its pace and build on the foundation that has already been laid.
The third season of the show witnessed the entry of the notorious mutants into the third stage towards the end while they are looking for revenge. Gina's family gets Kevin abducted, however, the bond between them stays the same.
Chief Randall is stressed about his upcoming baby while Bullet is worrisome as a result of some revelations that are yet to be shared with us. Not just this, Dusty Marlow is seen hitting the gym in the third season.
Paradise PD Season 4 is likely to take the story ahead from where season 3 has left it, keeping in accordance with the system in which the series has been going on so far. Nobody can exactly predict how the plot of the show would step up will we have some hints. So, let's just wait and watch!
Related| Paradise PD Season 3 Ending Explained – How, Why, and When?
Paradise PD Season 4 Trailer – Is it coming soon?
We do not have an official trailer for Paradise PD Season 4 yet. Though, we(Fiferst) do hope and expect it to come out soon as the fans have been waiting for quite some time now.
Till Netflix responds positively to the wishes, here's the trailer from Paradise PD Season 3 for you all to relax and rewind –
Some Frequently Asked Questions Related To Paradise PD Season 4 –
1. Will there be a Paradise PD season 4?
Yes, the animated series is getting a fourth season and is scheduled to premiere on December 16, 2022.
2. Is Paradise PD Cancelled?
No, the series hasn't been scrapped. The three seasons of the drama have already been premiered while the fourth one is going to be released in December 2022. However, it will be the final season of the series.
3. How old is Dusty from Paradise PD?
Dusty is an animated character who is running in his 40s and is going through an obesity issue.
4. Why is Gina obsessed with Dusty?
During her job, Gina starts developing a love for her colleague Dusty Marlowe, who was basically a fanatic Army guy.
5. Is Paradise PD a spinoff?
It's an animated comedy thriller similar to Brickleberry, made by Waco O'Guin and Roger Black. A switchover happened amid both the dramas which resulted that Woody and Randall being cousins.
6. Is Paradise PD based on Brickleberry?
No, it doesn't entirely follow Brickleberry, but yes the show's concept has been inspired by Brickleberry. Since the showrunners of both the dramas are the same, the cast, the storyline, the characters, and the locations are quite similar.
7. What happens to Gina in Paradise PD?
Ultimately, Gina enters Paradise and gets the position of a police officer at the Paradise Police Department. 
8. Is Paradise PD made by Family Guy?
The series has been made by Roger Black and Waco O'Guin.
9. Will there be a Part 3 of Paradise PD?
The third season of the anime series has already premiered on March 12, 2021, on Netflix. So if you haven't watched it yet then go and watch it on the popular TT platform.
Related | The Nevers Season 2 Release Date – HBO's Sci-Fi Drama Is On The Way!